We all know how important it is to follow a regular fitness routine in order to stay fit and healthy. But what about our mental health? Isn't it equally important to stay emotionally balanced? What are you doing to achieve good mental health? It can be as simple as having a regular relaxation routine, a gratitude list, make time for a 5-minute breathing or tapping exercise or being mindful of your mind's focus. Remember: energy flows where attention goes. Make time to count your blessings and focus on what makes you happy.
For many of you, this winter lockdown period has been difficult. In fact, for me too. With so many messages of fear and anxiety in the media, stories of hartship and chaos in the world, it can almost feel like good mental health and inner peace is a luxury or a privilege that only some people have. It's easy to feel like that, but there is a lot you can do to help yourself.
If you've worked with me in the past, you know that I offer effective solutions to help you achieve emotional balance and good mental health. You can check out my freebies and resources.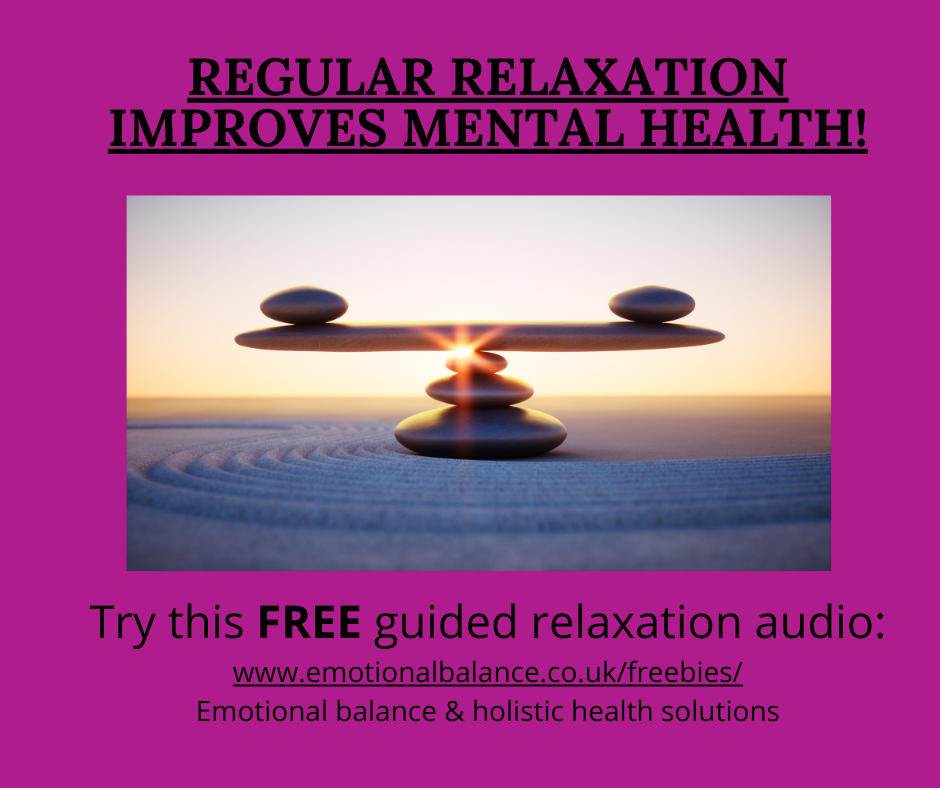 Remember to use my free relaxation recording on a regular basis (which you received a little while ago). It will help you stay relaxed and calm. If you like more variety, need a reminder of the 7/11 breathing or fancy a tapping video, then check out my products and special offers.
My goal is to help you feel balanced, safe, strong and perhaps even as light and carefree as a feather floating around in the air, without any emotional burden or stress. Isn't that the dream?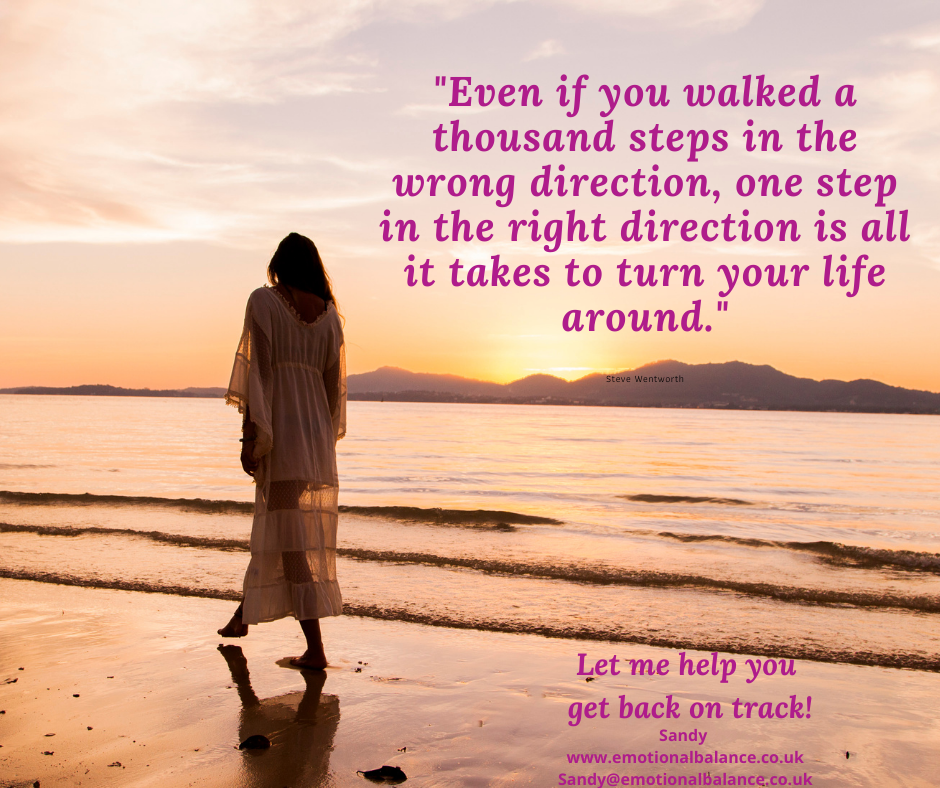 Perhaps you're interested in a 1-2-1 session. I offer them online and from 12th April (hopefully) face-to-face again. As I live in Eastbourne now, I'm only offering sessions in Brighton on Mondays and Tuesdays or anytime online.
Also, from April my prices are going up. Everything is becoming more expensive and I have been in the same price range for over 7 years now! However, any sessions booked and paid for until end of March will still be at the old price (£70 for one session or £180 for 3 sessions) even if they are taking place in April or May, so ACT NOW and BOOK YOUR SESSION. Just send a quick email to sandy@emotionalbalance.co.uk and we'll sort out a day and time that's convenient for you. And as a bonus, I'll throw in a free download worth up to £15 from my online shop, so that's a free audio recording or a free tapping video. This offer is only valid if booked and paid by 31st March. The actual sessions can be in April or May.
If you know anyone who you feel would benefit from working with me, feel free to forward my blog post or contact details to them.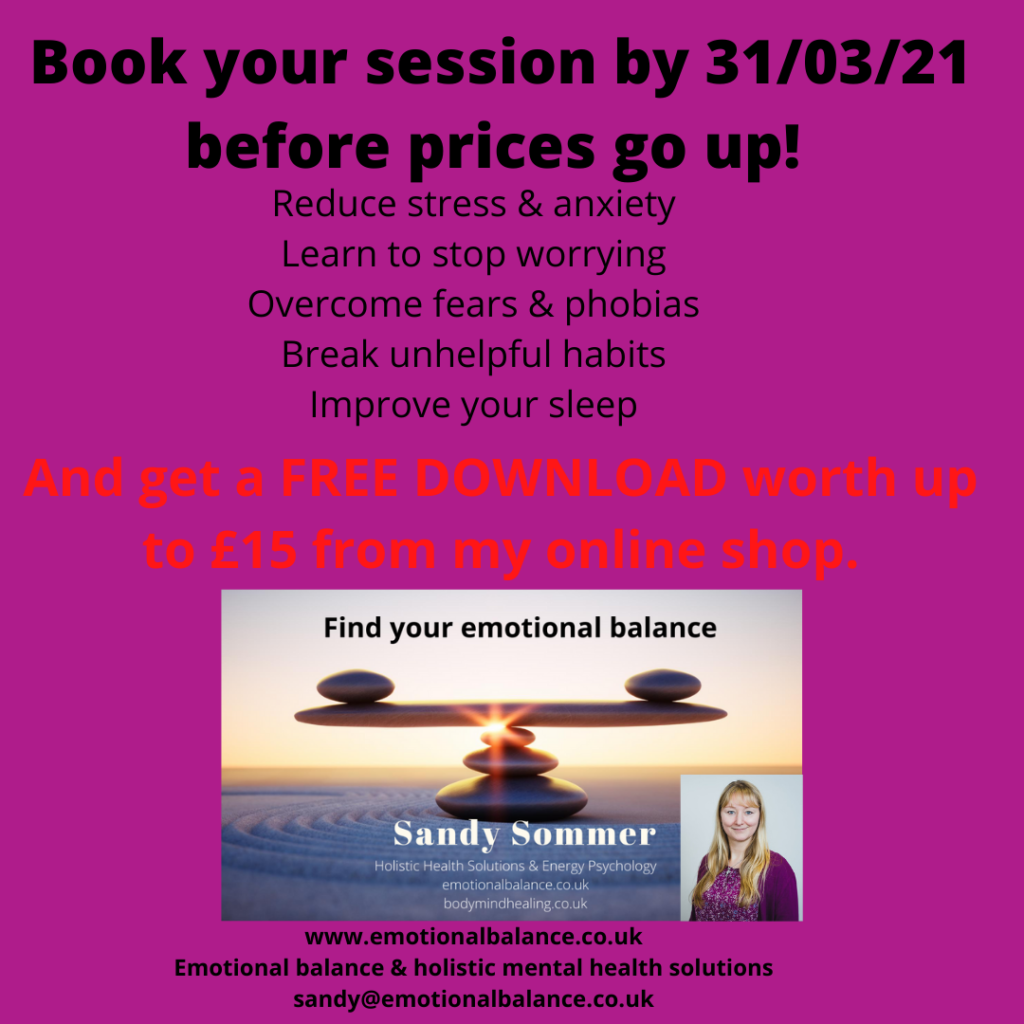 It is crucial to take care of yourself and work on your emotional balance and mental health, because it is your greatest asset!
Contact me sandy@emotionalbalance.co.uk to make sure you get your session(s) at the old rate and your free download. I look forward to hearing from you.
Take care. Happy Monday vibes, love and light,
Sandy x