According to the NHS and the British Pain Society, almost half (43%) of the population in the UK suffer from chronic pain, that's about 28 million people! This year (2020) is likely to see a rise in numbers, due to changes in circumstances since Covid, like working from home, self-isolating, lack of exercise and reduction in pain service provision.
Having suffered from chronic pain myself for several years in the past, this topic is important and personal and one of the reasons I changed profession to become a holistic health practitioner after having found alleviation and healing from my condition. In this article, I'd like to help you understand why we may suffer from chronic pain, what factors influences the pain level and explain how to manage and alleviate it.
Let's start by trying to understand why we experience pain. Pain is a symptom which the body uses to communicate with us, telling us something is not right. Pain is feedback, similar to the engine light in your car signalling something is wrong. Acute pain should never be ignored and if treated appropriately in most cases, long term pain can be avoided. Yet what if you are already suffering from chronic pain and doctors can't help?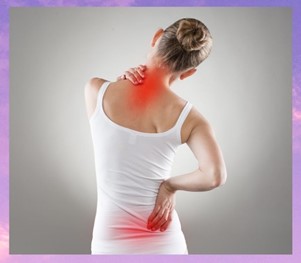 My view is that chronic pain happens for a reason, often subconscious psychological reasons that we are not aware of, yet if we can find them, deal with them and make a conscious shift, we may find that the pain changes too, becomes more bearable, manageable and even starts healing. The body usually has a natural ability to heal itself. If you cut your finger, you heal the wound, put a plaster on and it heals. If you break a bone and stabilize the body part, the bone grows back together. People recover from accidents, surgery, falls, injuries, etc. So, in my view, if you're suffering from chronic pain it means, there's something holding the condition in place, either physical or psychological.
One factor is that, the body can change and adapt. While most of our physical bodies naturally strive for health, they can only heal themselves if they're given the opportunity to do so. Stress puts the body in fight or flight mode, where the main concern is survival. It's a natural biological response which we've inherited from our ancestors. Therefore, constant stress can prevent the body from healing as it only feels 'safe enough' to heal and recuperate when we're calm and relaxed. To allow the body to heal, watch your stress level!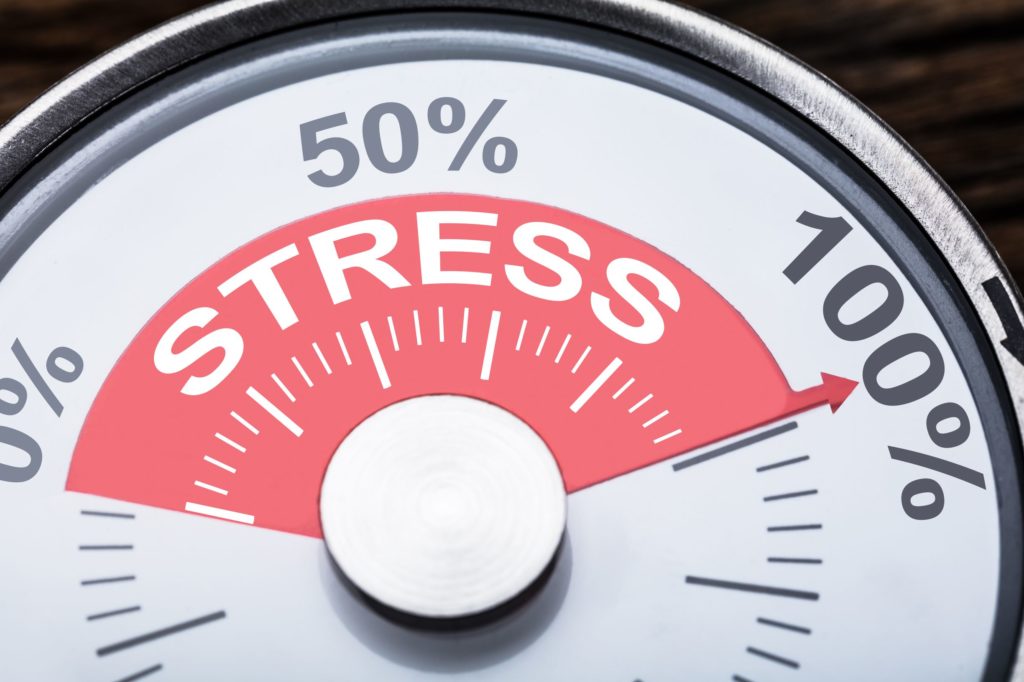 In addition, sometimes one problem can cause another, such as when someone has sprained their ancle or hurt their knee, they put more weight on the healthy one which might then also start hurting if this continues for long enough. The body will change and adapt to any circumstances, doing the best it can to lower pressure and find balance. So be mindful of how you're using your body.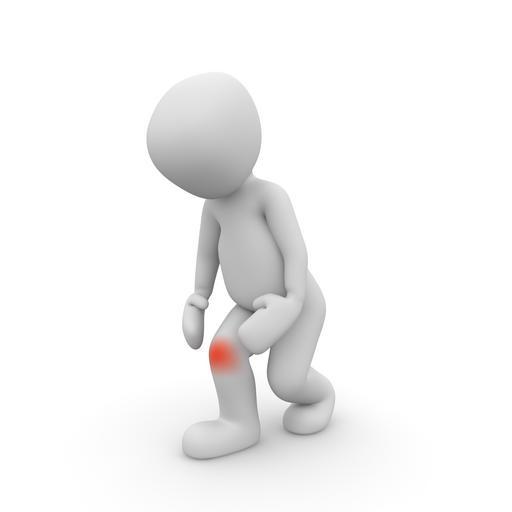 Pain is subjective, some people can tolerate more than others. Ever wondered why that is? A number of factors influence how we experience pain: our beliefs play a role, past (pain) experiences, our current stress level or even how we see ourselves. Did you know that your current stress level will influence the degree of pain you feel? Stress triggers a number of physical reactions, such as increased blood flow which means more blood also flows through the painful body part, increasing the sensation of pain. Therefore, another effective way to manage your pain level is to learn to relax. There's a wide variety of relaxation methods available, so why not try to find one that suits you? I'm happy to give you my FREE guided relaxtion visualisation. It's a 10 minute audio relaxation to help you feel more balanced https://www.emotionalbalance.co.uk/freebies/
Yet another effective way to manage your pain is to befriend your body and listen to the communication it is offering. As mentioned above pain is feedback. Many see their body as their enemy "Why is my body doing this to me?" Try a new approach, take time to listen, go inside and search for reasons and emotions behind the pain. Once you understand the message, your body might not need to "shout so loud" anymore. Send positive thoughts and mental messages to your body. It's doing the best it can given the position it is in. Give yourself of painful body part a hug, apply an appropriate lotion, heat or cold pack, breath into the pain and practice acceptance rather than resistance. Resistance fuels stress, acceptance allows healing. Create the best conditions to allow your body and mind to heal.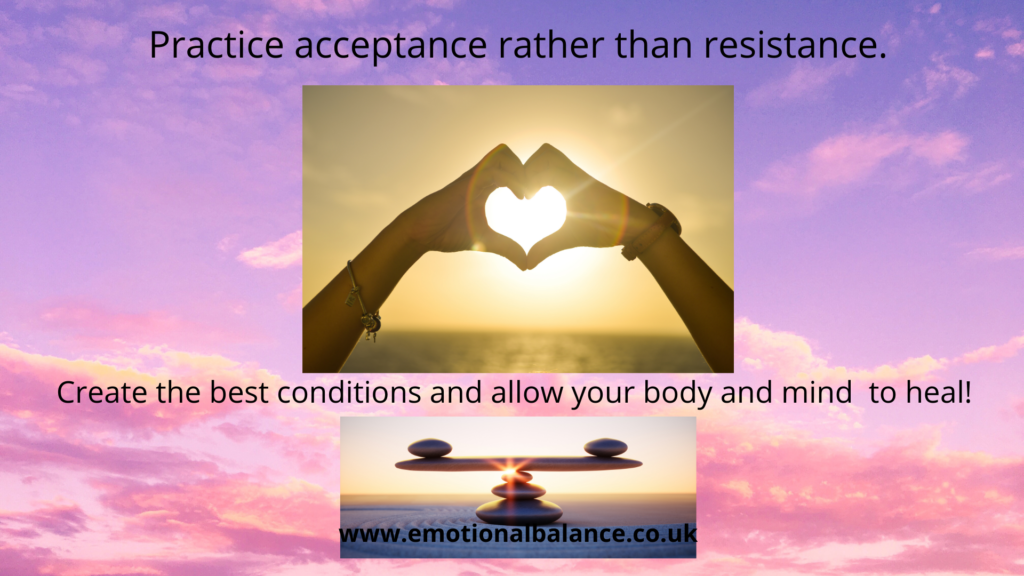 There's plenty more to be said about this topic. If you're suffering from chronic pain and would like to learn more about how to manage it, you're invited to join my next live 2-hour workshop on 17th October in Brighton! Numbers are limited, so make sure you book your place asap! To find out more:
https://www.emotionalbalance.co.uk/event/releasechronicpain/
To book your place, send an email with your name and telephone number to sandy@emotionalbalance.co.uk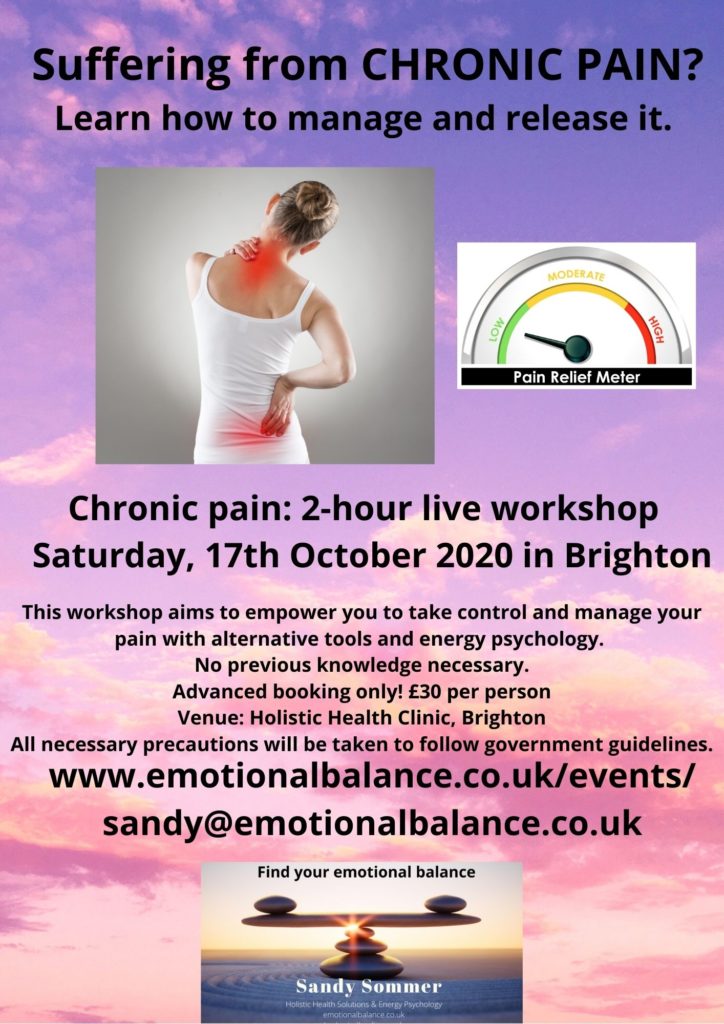 I hope you found this article informative and helpful. If you know anyone who suffers from chronic pain, feel free to share it with them. My mission is to help as many people as possible as I know from personal experience how limiting life with chronic pain can be.
Sending love, light and healing.
Sandy